SAINKHO NAMTCHYLAK
voice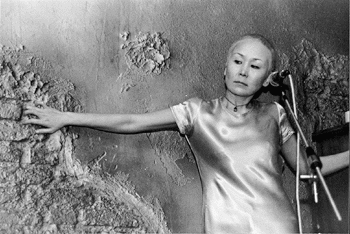 Foto: V.(D) Konradt
---
STRATOS-SPHERA
Solo program dedicated to
Dimetrio Stratos

In history of free improvised music appearance of Dimetrio Stratos was very short and intence.

Rock group "Aria" in Italy was one of the cult groups in the 70's but not so many listeners knew that leading singer Dimetrio Stratos has recorded his solo works in his last period of his life.

For me as singer from very far Siberian country this solo recording was a real deep challenge from shamanistic rituals to very avant-garde "Transvisual" voice performances.

Solo voice performance is including ambient sound tracks, slides and visual effects.

Show is about
NATURE AND INDUSTRIALIZATION
UNITY OF SOUL AND
UNIVERSALITY OF HUMAN VOICE.
STRATOS-SPHERA
Programma solista dedicato a
Dimetrio Stratos

L'apparizione di Dimetrio Stratos nella storia della musica improvvisata è stata molto breve ed intensa.

Il gruppo rock "Aria" era una delle formazioni di culto nell'Italia degli anni '70, ma pochi sanno che il suo leader, il cantante Dimetrio Stratos, ha registrato i suoi brani solistici solamente nell'ultimo periodo della sua vita.

Queste registrazioni hanno costituito per me, in quanto cantante proveniente da un lontano paese siberiano, una grossa sfida nel passaggio da rituali sciamanici a performances vocali "transvisuali" di carattere avanguardistico.

La performance include musiche di fondo, immagini ed effetti visivi.

Lo spettacolo parla di
NATURA E INDUSTRALIZZAZIONE
DELL'UNITÀ DELL'ANIMA E
DELL'UNIVERSALITÀ DELLA VOCE UMANA.