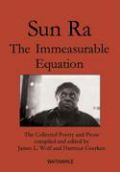 Sun Ra: The Immeasurable Equation
The collected Poetry and Prose.
Herausgegeben von Hartmut Geerken.
---
USTUU HUREE - new website
---
TUESDAY 3th MAY 21 - 22 h
JAZZ AKTUELL
UNCOOL FESTIVAL
Jürg Solothurnmann
Interview with Cornelia C. Müller

---


Monday, 18 April,

25.April and 2. May


17.00
Is Black Music
Art Terry
A pre IS BLACK MUSIC re-launch special featuring The SUN RA ARKESTRA and the Swiss festival titled THE UNCOOL FESTIVAL in which the Arkestra will be appearing. This week The Arkestra's latest release will be broadcast alongside exclusive interviews from Marshall Allen, Danny Thompson, Michael Ray, Charles Davis, Tyrone Hill and Kali Fasteau.
The Sun Ra Arkestra is often credited for spearheading 20th Century Music. The musicians that actually created the music however are rarely recognised. To celebrate their second appearance in the Uncool Festival which takes place in Switzerland this May. Is Black Music will do a series of programs examining the musicians who are still working inside the Sun Ra Arkestra. The first program will be at 5:00 Monday April 18th, and then again 5:00 Monday April 25th and the finale on Monday May 2nd. There will be live exclusive interviews, and CD giveaways. On 104.4 Resonance FM. The Sun Ra Arkestra was always a thing of the future.

---
---
---
---
---
---
AL VIAC – video
film – GOETZ ROGGE
music – OLAF RUPP

Bernina - video
film and sounds – GABRIELE WORGITZKI
music – UNCOOL FESTIVAL 2001
SecretPath - video
film – GABRIELE WORGITZKI
music – DAVID HOTEP